Non Emergency Medical Transportation Insurance Pennsylvania
Non Emergency Medical Transportation Insurance Pennsylvania  — Quotes for Single Vehicles and Fleets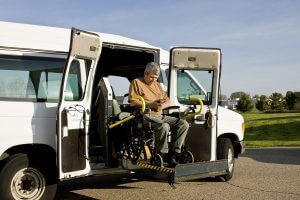 If you're searching for Non Emergency Medical Transportation Insurance in Pennsylvania you have found the right company!
We offer coverage for Non-Medical Transportation Companies throughout the United States that includes Commercial Auto, General Liability, Property Coverage, and Pennsylvania Workers Compensation Insurance for NEMT Companies.
There are three ways that you can request information:
Call 1-800-998-0662 to speak with our licensed agents specializing in Non Medical Transportation Insurance Monday through Friday up until 5:30 PM EST

Use our online chat system available up until 8 PM EST through the week and up to 5 PM EST on the weekend

Send an online quote request 24 hours per day, seven days per week.
For Pennsylvania NEMT Insurance Quotes Choose One of the below Links:
You can call, chat with our agents online, or send an online quote request 24 hours per day.
Non Emergency Medical Transportation Insurance — How to Find Good Deals?
If you are a new business venture wishing to offer this valuable service it's actually quite a bit more difficult to find insurers wanting to offer this line of insurance coverage.
Why?
In one word— Claims!
Insurance companies place this type of business activity in the same classification as livery — in other words, Pennsylvania Non Emergency Medical Transportation Insurance is similar to Taxi Insurance.
Few companies offer Insurance for Taxis in Pennsylvania and even fewer insurers offer this specialized form of commercial insurance Insurance!
Pennsylvania NEMT Insurance Companies are very few in number making it difficult to find agents or insurers willing to offer NEMT Insurance in Pennsylvania — Fortunately we have carriers that offer this specialized coverage throughout the United States.
Why do insurers pay out more in claims for Non Emergency Medical Transportation Insurance versus other types of commercial insurance?
There is simply more claims exposure for this line of business versus a traditional commercial auto policy. Let's consider two different examples.
Non Emergency Medical Transportation Insurance Claim Scenario
The best way to explain why Non Emergency Medical Transportation Insurance is a riskier type of insurance offered by insurance companies is to highlight the differences between Non Medical Emergency Transportation Companies and a more traditional type of company.  In the example we will present, note the difference between a roofing contractor and a Non Medical Emergency Transportation Company.
Frankie Jarvis is a roofing, siding, and gutter contractor and has been in business for 10 years. He is a highly sought-after contractor. Frankie's company, Jarvis Man Roofing LLC or the J Man Roofing crew employs 10 men who split into two 5-man crews that do all of the roofing work.
In addition, there is one full-time estimator, one administrator, plus Frankie himself and his wife and two sons who work in the business.
Frankie has purchased a commercial general liability insurance policy, plus a commercial auto policy that covers three commercial trucks that he uses for J Man Roofing.
Of the 10 men who work on the roofs, two of the men are listed drivers on Frankie's commercial auto insurance policy plus he and his wife drive the third truck and are listed on the policy as well.
Now let's examine our NEMT company. Benjamin Stone is the owner of Iron Skillet Transportation LLC
Iron Skillet Transportation LLC owns three vans that have been converted with wheelchair lifts and they are used for transporting customers to and from doctors' appointments.
Iron Skillet Transportation employees a total of five individuals including Benjamin himself, his wife as his administrator, and three drivers who operate his vans.
In our next post we will examine how there can be significant differences in claim payouts by insurance companies for nearly identical accidents that occur to J Man Roofing and Iron Skillet Transportation.
Don't miss the next issue so that you can see the reason why NEMT Insurance in Pennsylvania is far riskier for insurers compared to traditional commercial auto insurance.
Non Emergency Medical Transportation Insurance — Coverage for Single Vehicles and Fleets
As you are shopping for Non Emergency Medical Transportation Insurance?  No matter if you need coverage for a single vehicle or a fleet, the agents of Pathway Insurance can help you find what you need.
Call us directly by dialing 1-800-998-0662 Monday through Friday up until 5:30 PM Eastern standard Time or you can use our online chat system — simply click chat with us right now and you can speak with one of our licensed agents up to 8 PM.
The final way to let us know of your interest in our Pennsylvania NEMT Insurance Program is to send us an online request of your interest.
Do you see a number of hyperlinks listed below?
Click the link that best corresponds to your area of operation or its closest proximity:
When you are searching for Pennsylvania NEMT Insurance Companies — Pathway Insurance is a name you can trust!
Tags:
Allentown Pennsylvania NEMT Insurance
,
Erie Pennsylvania Non Emergency Medical Transportation Insurance
,
NEMT Insurance Allentown Pennsylvania
,
NEMT Insurance for Allentown Pennsylvania
,
NEMT Insurance for Reading Pennsylvania
,
NEMT Insurance in Allentown Pennsylvania
,
NEMT Insurance in Reading Pennsylvania
,
NEMT Insurance Quotes Pittsburgh Pennsylvania
,
NEMT Insurance Reading Pennsylvania
,
Non Emergency Medical Transportation Insurance Erie Pennsylvania
,
Non Emergency Medical Transportation Insurance for Erie Pennsylvania
,
Non Emergency Medical Transportation Insurance for Pennsylvania
,
Non Emergency Medical Transportation Insurance for Philadelphia
,
Non Emergency Medical Transportation Insurance for Scranton Pennsylvania
,
Non Emergency Medical Transportation Insurance for Upper Darby
,
Non Emergency Medical Transportation Insurance in Erie Pennsylvania
,
Non Emergency Medical Transportation Insurance in Pennsylvania
,
Non Emergency Medical Transportation Insurance in Philadelphia
,
Non Emergency Medical Transportation Insurance in Scranton Pennsylvania
,
Non Emergency Medical Transportation Insurance in Upper Darby
,
Non Emergency Medical Transportation Insurance Pennsylvania
,
Non Emergency Medical Transportation Insurance Philadelphia
,
Non Emergency Medical Transportation Insurance Scranton Pennsylvania
,
Non Emergency Medical Transportation Insurance Upper Darby
,
Pennsylvania Non Emergency Medical Transportation Insurance
,
Philadelphia Non Emergency Medical Transportation Insurance
,
Pittsburgh Pennsylvania NEMT Insurance Quotes
,
Reading Pennsylvania NEMT Insurance
,
Scranton Pennsylvania Non Emergency Medical Transportation Insurance
,
Upper Darby Non Emergency Medical Transportation Insurance