Owner Operator Insurance Levittown
Owner Operator Insurance Levittown – Find Better Coverage!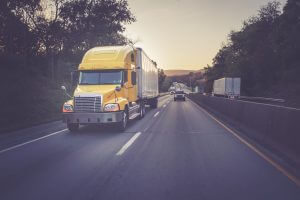 Unhappy with your current Semi Truck Insurance coverage?
Give Pathway a call and discover better options today!
You can contact us at 800-998-0662 or 513-662-7000 during our standard business hours. If that doesn't work for you, you can also utilize our online chat system by selecting the option in the lower-right corner of the screen.
Begin your free online Semi Truck Insurance quote by selecting a link below:
Owner Operator Insurance Levittown – Exclusion Example No. 3
Now that we've seen Mr. Bruester suffer through two separate collisions, it's time to put him through a third.
Let's take the story back one last time. Mr. Bruester quickly cleans up the mess in his lap from the sandwich falling and goes about his day, driving attentively. He's still quite furious with all of the day's events, but he's managing.
Further down the road, he notices that traffic is beginning to slow and that there is another rather large traffic jam. At this point, Mr. Bruester accepts his fate and begins to slow down. Traffic is moving fairly slowly already, and there's still a decent amount of space in between each vehicle.
However, while he is slowing down, a rather impatient driver continues to bob and weave in and out of traffic, eventually ending up in front of Mr. Bruester. While doing so, the impatient driver effectively cuts off Mr. Bruester.
Being already quite irritated, Mr. Bruester isn't having any of this. He promptly rolls his window down, leans out, and shouts at the guy that had just cut him off.
Much to Mr. Bruester's surprise, the man in front of him immediately puts his car in park and gets out of his vehicle, as if to challenge Mr. Bruester.
Mr. Bruester decides that he wants to teach this joker a lesson. Instead of parking his truck, he instead hits the accelerator for a brief second before immediately braking again.
His intention is merely to scare the disgruntled driver into thinking Mr. Bruester is about to run him over with his big rig.
Unfortunately for both men, this little prank works too well.
The driver is so startled by Mr. Bruester's stunt that he stumbles backward, trips, and hits his head hard on the pavement. It becomes clear immediately that 911 needs to be called.
Will this incident be covered? Visit Owner Operator Insurance Harrisburg PA to find out.
Owner Operator Insurance Levittown
Are you a safe driver? If so, you may be entitled to save money on your monthly payments.
If you would like to know more, call Pathway insurance today at 800-998-0662 or 513-662-7000, or by selecting our online chat option.
Don't forget to get your free online Pennsylvania Semi Truck Insurance quote by clicking a link below:
Tags:
Dunmore PA Owner Operator Insurance
,
Hershey PA Owner Operator Insurance
,
Horsham Owner Operator Insurance
,
Levittown Owner Operator Insurance
,
Owner Operator Insurance Dunmore PA
,
Owner Operator Insurance for Dunmore PA
,
Owner Operator Insurance for Hershey PA
,
Owner Operator Insurance for Horsham
,
Owner Operator Insurance for Levittown
,
Owner Operator Insurance for Pottsville PA
,
Owner Operator Insurance Hershey PA
,
Owner Operator Insurance Horsham
,
Owner Operator Insurance in Dunmore PA
,
Owner Operator Insurance in Hershey PA
,
Owner Operator Insurance in Horsham
,
Owner Operator Insurance in Levittown
,
Owner Operator Insurance in Pottsville PA
,
Owner Operator Insurance Levittown
,
Owner Operator Insurance Pottsville PA
,
Pottsville PA Owner Operator Insurance