Video Production Cincinnati
Looking for a Cincinnati Video Production Company?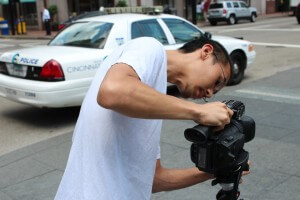 Contact the video production professionals at the WIN Group.  The WIN Group's contact number is 513-800-1399 and they offer exceptional video production in Cincinnati. 
The WIN Group is responsible for all of the video marketing projects for our agency Pathway Insurance.
Why is online video marketing a powerful strategy you should implement in your business?  In two simple words: It works.
Each week, on average, we generate tens of thousands of dollars in new customer sales because of our online strategies utilizing our online videos and websites! 
How Do We Use Videos to Sell Insurance?
The videos are developed based on a specific insurance product.  For instance if we wish to sell car, home, life, or business insurance in a specific area we will create a video for that area.
For example in the last 4 months we filmed more than 30 insurance videos targeting specific areas for different types of insurance policies we offer in our agency. 
Eventually each of these videos will be listed on the first page of the search engines helping our agency to acquire more digital real estate. 
When Videos are Listed On the First Page of Google How Will That Help Your Business?
Videos uploaded to YouTube (Google owns YouTube) if properly configured and promoted can be prominently displayed on the first page of the search engines.
As an agency we develop our videos around specific keywords consumers and business owners are typing into the search engines as they look for different types of insurance products.
Please note one example of a highly competitive search term we target in our agency: auto insurance Cincinnati
If you type this term into the search engines you will find a video the WIN Group created for our agency in May of 2013.  Currently it is the only insurance video listed on the first page.
When typing this term into Google you will notice the video thumbnail makes our spot on the first page stand out far more prominently compared to any other website listing on the first page. (despite the fact it is not is the first position on page one)
As insurance buyers search for the specific insurance coverage they desire, a video can stand out much more noticeably compared to other web page listings.
This is the reason why we invest in video marketing and it is also the reason why you, as a business owner should also invest in video marketing.
Speak with a production manager with the WIN Group by calling 513-800-1399 when you are looking for a company offering video production in Cincinnati.
Recent Videos Completed for our agency by the WIN Group: 
Truck Insurance Ohio.
Tags:
Video Production Cincinnati