Owner Operator Insurance Scranton PA
Owner Operator Insurance Scranton PA – Need Better Coverage?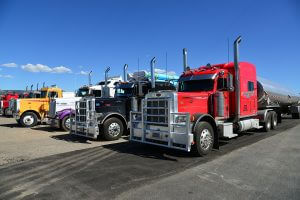 Get to know your insurance exclusions! These can be tricky things, and aren't always laid out explicitly.
That's why, at Pathway Insurance, we like to help explain to our clients some of the various different situations that can result in an accident not being covered, so that they can do their best to avoid such a circumstance.
You can call us for more information at 800-998-0662 or 513-662-7000, or get in contact with our experts through the online chat system found in the bottom right corner of the browser window.
You can also begin your free online quote for Semi Truck Insurance by selecting a link below:
Owner Operator Insurance Scranton – Exclusion Example No. 1 Continued…
We had just left off stating that Mr. Bruester decided to enact some self-righteous vigilantism.
After already being furious, then getting cut off by a car, he finally was overtaken by his rage, and wanted to make the person driving the car regret cutting him off.
Mr. Bruester accelerated toward the car with the intention of lightly bumping into its  rear fender.
He only wanted to do enough to intimidate the driver, and he thinks a nice big scuff on the car's bumper should do the trick.
Mr. Bruester creeps up nice and close to the car, then gives his gas pedal the smallest of taps. His truck lurches forward with enough force to cave in the car's rear bumper. Pieces of plastic break and scatter.
The damage done to the car, as well as the damage done to Mr. Bruester's truck, would not be covered by his Semi Truck Insurance.
Under the exclusions section, it is stated that any expected or intended property damage will not be covered by the policy.
So, since Mr. Bruester intended to cause damage to the other driver's vehicle, the damage is not covered.
Mr. Bruester's recklessness, as well as his unfamiliarity with his own Semi Truck Insurance policy, cost him big. His apathy toward driving carefully and his short temper lead him to enact damage on another person's vehicle.
Mr. Bruester's intent to damage has voided his coverage, and now he's stuck paying for it. Furthermore, he will more than likely be sued by the victim, and these costs will not be covered by his insurance, either.
Next article, we'll be rewinding this scenario and giving it a different spin to further explain what may fall under the exclusions section of a policy.
Click Owner Operator Insurance Bethlehem PA to read the next section.
Owner Operator Insurance Scranton PA
Don't get caught in an unfortunate situation! Be sure you're familiar with your insurance policy exclusions.
If you would like to get in contact with one of our experts for more information, you can call 513-662-7000 (direct) or 800-998-0662 (toll-free) during business hours. Alternatively, you can use our online chat system to request help or information outside of our normal operating business hours.
Begin your free online quote for Semi Truck Insurance by selecting a below link:
Tags:
Baldwin PA Owner Operator Insurance
,
Carlisle PA Owner Operator Insurance
,
King of Prussia Owner Operator Insurance
,
McKeesport PA Owner Operator Insurance
,
Owner Operator Insurance Baldwin PA
,
Owner Operator Insurance Carlisle PA
,
Owner Operator Insurance for Baldwin PA
,
Owner Operator Insurance for Carlisle PA
,
Owner Operator Insurance for King of Prussia
,
Owner Operator Insurance for McKeesport PA
,
Owner Operator Insurance for Scranton PA
,
Owner Operator Insurance for Upper St. Clair PA
,
Owner Operator Insurance in Baldwin PA
,
Owner Operator Insurance in Carlisle PA
,
Owner Operator Insurance in King of Prussia
,
Owner Operator Insurance in McKeesport PA
,
Owner Operator Insurance in Scranton PA
,
Owner Operator Insurance in Upper St. Clair PA
,
Owner Operator Insurance King of Prussia
,
Owner Operator Insurance McKeesport PA
,
Owner Operator Insurance Scranton PA
,
Owner Operator Insurance Upper St. Clair PA
,
Scranton PA Owner Operator Insurance
,
Upper St. Clair PA Owner Operator Insurance