Does Sassy Sally, or Helpless Hal Take Care of Your Insurance in Indian Hill Ohio?
Dumb Things Insurance Agents Do to Cost You Money!
When shopping for Insurance in Indian Hill Ohio and the surrounding areas we might buy coverage from the wrong agent or Company.  When that happens prepare yourself for headaches, aggravation, and sometimes you will lose money because you hired the wrong agent or company to care for your insurance needs. 
If you are looking for an agency with an absolute stellar reputation for Great Client Services. You will not find an agency better than Pathway Insurance. That is my promise to you as the owner!
Please call us to discuss your Insurance Needs at 513-662-7000, or use our online rate quote system when shopping for car and home insurance in Ohio, Kentucky, Indiana, or Michigan.
Business insurance of all types are also available through our company.
What happens when we Buy Insurance From the Wrong Company or Agent?
In eight different articles we will discuss the dumb mistakes, tricks, rude behavior, and flat out wrong advice that bad agents or company representatives offer up to their unsuspecting clients. 
Let's consider Sassy Sally and Helpless Hal in our first article.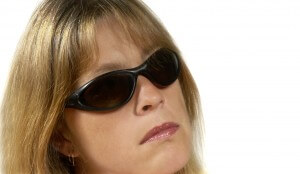 Sassy Sally is probably one of the worst insurance agents because she is rude, likes to argue with customers, and she's not very helpful. 
(Are you getting bad customer service from your insurance company in Cincinnati?  Click here to start the process of receiving good customer service from our A+ Rated Agency.)
Helpless Hal is the exact opposite of Sassy Sally, but the poor fellow just can't seem to get anything straight for customers. 
You tell Hal you want a $250 deductible on your car insurance policy and he gives you a $500 deductible instead.
You ask him to mail out new ID cards and you never get them.  You ask Hal to find out why you got a rate increase on your insurance and he never returns your phone calls. 
Helpless Hal is a good guy but a bad insurance agent.
Good customer service is hard to find.  All of us have had experiences with a Sassy Sally or a Helpless Hal in products or services that we purchase.  Increasingly companies place more emphasis on profits that can be made for the company and less importance on hiring the best and most qualified people for the job.
If you are considering purchasing new insurance in Indian Hill Ohio, what are the warning signs that you are insured with Helpless Hal or Sassy Sally?
When you buy your insurance policy the premium is more than what was quoted.

Multiple mistakes are made on your quotes with no apologies from the agent.

You never get your insurance policies or ID cards.

Your bills are never the same and do not show up on time.

You changed bank accounts and the agent forgot to notify the insurance company causing you to bounce checks and then they have the nerve to blame it on you!

The agent or their assistants are rude to you or treat you like a child when you ask questions. (If that's happening from the beginning do you think that will improve over time or get worse?)

You made your payment in the agent's office and they never sent the money to the insurance company and your policy lapsed!

Your mortgage company bought extra homeowners insurance for you (and made you pay for it.)Because your insurance agent forgot to send a notice to your bank that you have homeowners insurance.

Your car loan payment is increased because your insurance agent forgot to send a notice to your bank.

You asked for full coverage on your car insurance, and after an accident happens you discover that you only have liability coverage.

Your agent forgot to add your brand-new car to your policy and then you wrecked it 45 days later.

Your agent gave you bad advice and your claim is denied.

You have a problem with a claim and your agent totally ignores you.

Your premium increases and your agent can't shop the market for you.

You do not receive return phone calls from your insurance agent.

You receive two different answers for the same question from two different people working in your insurance agent's office.
Our local insurance agency believes in old-school customer service.  Our Moto is "Service the way it used to be."™
We have one of the best customer service teams in the area. What does that mean for you?  When you call with questions or problems you will find our agents and customer service representatives helpful, courteous, and we go the extra mile for our customers.
When shopping for insurance, don't make the mistake of placing more emphasis on the price of the insurance, because this old saying is perfectly true:
Sometimes you get what you pay for.
Read our next article:  I am getting the Run around Ralph?  
Would you like to be insured with an agency that goes beyond the call of duty? 
Contact Pathway When Searching for Insurance in Indian Hill Ohio.
Take the first step by calling us at 513-662-7000 or use our online rate quote system for quotes from top companies offering insurance in the following areas:
Auto Insurance Cincinnati
,
Automobile insurance Cincinnati
,
Bad customer service in Cincinnati
,
car insurance Cincinnati
,
poor customer service from an insurance company in Cincinnati