Hotel Insurance Ohio
Hotel Insurance Ohio — Need Better Options?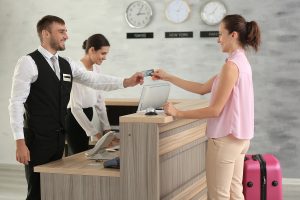 If you are searching for Hotel Insurance in Ohio or any location throughout the United States we would like to tell you about a new program offering super low rates for Commercial Insurance for Hotels and Motels.
Call to speak with a licensed agent right now by dialing 1-800-998-0662 or click on Ohio Hotel Insurance Program.
Or if it's more convenient you may request quotes 24 hours per day based on the geographic location of your hotel:
Also don't forget about our chat system as it is normally manned seven days per week up until 5 PM.
Hotel Insurance Ohio — Saving Money May Cost You Money!
Everyone wants a great deal on their insurance. But if you save money on your Hotel Insurance Program by giving up important coverage and later experience a claim event that leads to a significant out-of-pocket expense on your part — how did you benefit by saving money only to give up your savings down the road on an unreimbursed claim?
This is a mistake that occasionally happens in the hospitality industry.
Hotel owners as business owners want to minimize their expenses for good reason — lower costs naturally equal higher profit margins.
But herein arises issues of coverage. What coverage do you need? What coverage is best suited to protect your largest investment? What exposures are different to your hotel versus your competitors?
What company offers you the choices for the coverage you seek?
All very important questions that deserve answers, would you not agree?
Hotel Insurance Ohio — Not All Plans Are the Same.
Did you know that not all Commercial Hotel Insurance Policies are identical?
In fact there are several different methods to purchase Ohio Hotel Insurance. Some insurers offer what is known as a Hotel Business Owners Insurance Policy (BOP) while other companies offer what is referred to as Packaged Coverage.
Packaged Hotel Insurance Coverage is technically called by those in the insurance industry, the Commercial Package Policy.
The Hotel Business Owners Insurance Policy may be suitable for one hospitality company, but it appropriate or not available for another.
That is why it's important to work with an agency that can help you determine which option is most suitable for your business — the Hotel Business Owners Insurance Policy, (BOP) or the Commercial Package Policy for Hotels.
Why not call us today to learn about a new program that may save you thousands — without sacrificing coverage?
Hotel Insurance Ohio — New Program Available Now.
A highly competitive Hotel Insurance Program is now available in the state(s) of Ohio, Kentucky, Indiana, Michigan, Illinois, Minnesota, Wisconsin, Colorado, Maryland, Missouri, Alabama, Tennessee, Virginia, West Virginia, Georgia, Florida, Texas, Arizona,  New Mexico, or Alaska we would like to tell you about a new program offering super low rates for Commercial Insurance for Hotels and Motels.
In some cases we can provide rate indications to you in hours for those hospitality companies the qualified.
Call Pathway Insurance by dialing 1-800-998-0662 or click on any of the below links to request information and quotes around the clock:
Tags:
Akron Ohio Hotel Insurance
,
Columbus Ohio Hotel Insurance
,
Commercial Hotel Insurance Policies
,
Dayton Ohio Hotel Insurance
,
Hotel Business Owners Insurance Policy
,
Hotel Insurance Cleveland Ohio
,
Hotel Insurance Coverage
,
Hotel Insurance in Cincinnati
,
Hotel Insurance in Ohio
,
Hotel Insurance Ohio
,
Hotel Insurance Program
,
Hotel Insurance Toledo Ohio
,
Ohio Hotel Insurance
,
Packaged Hotel Insurance Coverage